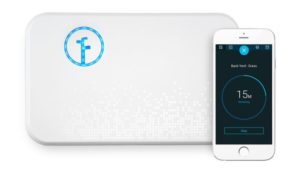 Upgrading my "dumb sprinkers" to Rachio's smart spinklers was a great thing for me to do.  Here are the 4 reasons why:
1 – It's Easy to Program
It is so much easier to use a computer or smartphone to program the timers and/or control the sprinklers.  It's fast, simple and I can do it from anywhere.
2 – It Knows More than I do
The Rachio timer is connected to the internet so it knows when it is going to rain or cool down.  It automatically will adjust or skip my regularly scheduled watering times when you don't need it.  It will also automatically apply seasonal shifts, watering my lawn more in the Summer than it does in the Winter.  You can also use sensors in your soil so it knows even more exactly how much water you need.
3 – It Remembers Things that I Don't
At any time I can open the app and it will tell me the status of my lawns, plants and or other watering zones.  I know how much I've watered, how much I've saved and can make adjustments if I want to.
4 – It's friends with Alexa
I use it with my Amazon Echo "Alexa" so I can verbally control it.  "Alexa, ask Rachio to water Zone 4 for 15 minutes".  It's really fun to talk to your house and ask it to do things for you.
5 – It didn't cost me anything
It not only didn't cost me anything but I got paid to upgrade.  After ordering my Rachio device I submitted the receipt to my water department and they gave me a rebate that was more than the Rachio cost me.